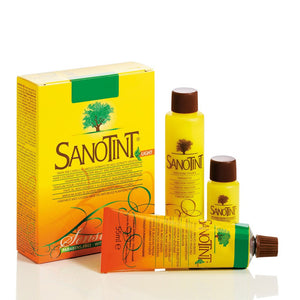 ePalmairamart
Sanotint SENSITIVE 72 BRIGHT ASH CHESTNUT
P-PHENYLENEDIAMINE FREE HAIR COLOUR WITH GOLDEN MILLET EXTRACT SUITABLE FOR MORE SENSITIVE SKINS.
Finally even those with sensitive hair and skin can now happily colour their hair. The Sanotint Light hair colour with golden millet extracts is the safest product for a reliable and non-aggressive hair colouring. It is designed specifically for more sensitive skins with risk of allergies and is absolutely free of Ammonia and P-Phenylenediamine and resorcinol.
Sanotint Sensitive is available in 14 shades that can be mixed together.
The product has very low allergy risks.
It does not contain:
PARABENS,
P-Phenylenediamine,
Resorcinol
Ammonia,
Added metals and Paraffin,
Silicon,
Formaldehyde free.
Nickel TESTED.
VISIBLE RESULTS FOR PERFECT GREY COVERAGE
---
Share this Product