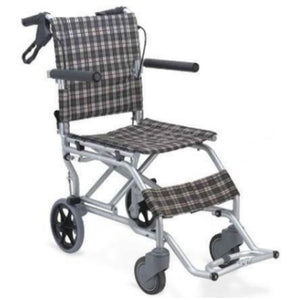 Palmaira Mart
Lightweight Transport Traveling Wheelchair
Regular price
Dhs. 1,050.00
BRAND: MEDIA6
CODE: 9001L-36
This lightweight transport wheelchair consists of folding back with rest. It is made up of steel frame or aluminum frame and fixed armrest and detachable swing-away footrest adds extra features to it.
Lightweight stainless aluminum travel wheelchair used in planes, trains, cars, and other public transportation.
Stainless aluminum cross with fast color by silver matte oxidation.
Flip-up PVC armrests for users to easily move from the wheelchair to the plane/train/bus/car seats.
Built-in durable flame retardant nylon cushion in mature-color plaids.
folding footrests for the smallest package and storage size.
Folding drop back handles for minimum package and storage size.
Durable, shock-absorptive 8" PVC rear wheels for the smallest package size.
Durable, flexible 5" PVC front wheels for travel for the smallest package size.
Stainless high strength arm links for front wheels.
Overall economical, folding configuration for the easiest transport.
---
Share this Product
---
More from this collection